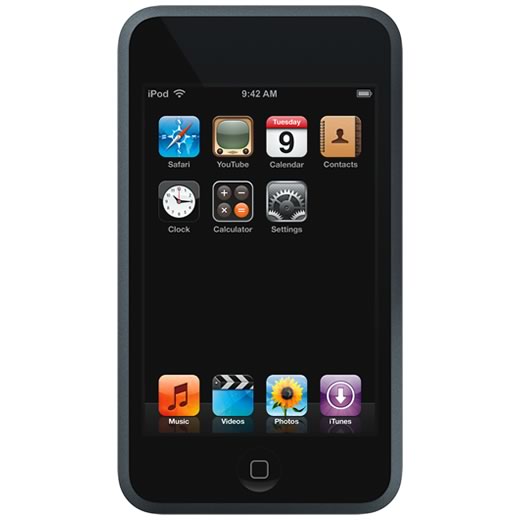 Meet Vivian, my iPod Touch, I call her Viv! She is the newest addition to my nerdy birdy portable media gadgetry collection. It wasn't more then a few months ago that I rolled my eyes at the idea of owning one. I was completely unable to fathom a reason to include it into my already complex cacophony of cables and power adapters that were constantly getting tangled by my anally expulsive bad organization style. That is until I played with Boy Genius' sleek piece of electronic trim, and I fell in love at first Touch!
From the moment I slid the unlock across it's silky smooth screen and gave it a little "pinch" to zoom in on a photo, I knew I had to have one of my very own. Thank goodness the Boy Genius is a very close personal friend of Santa Claus, because he got him to stick one under the tree in a pink box with a pretty pink bow!
Viv and I have spent the last few days getting to know one another, and with out a doubt I love her madly. HOWEVER, if I didn't know that I had the option to hack it, or that come soon an SDK is expected to flood us Touch touchers with a myriad of application options, I would be asking "So, ummm that's it?", "Doesn't it like do anything else, like vibrate or make coffee or something?"
While the stock version (1.1.2 Firmware) comes with some of the standard apps you would expect, i.e., contacts, calendar, music, and web browser, it's software is lacking in rudimentary ways that could only be explained by a mental mishap or a bad hair day for His Apple Majesty, Mr Jobs. To explain: there is no task list, to do list, or notepad! There is no card game, or any game for that matter! Eeeekk, says the Gametart, a brilliant device like this and I cant jot down a quick grocery list? Shameful! The Vivian demands a plethora of games, webapps, photo editing tools, multi skinned notepads, to do lists, add ins, plug ins, and loop-de-loops. So now what?
I had initially decided not to hack the Vivian. I was going to be patient and wait, but she deserves a little variety. Besides, my personality type is markedly deficient in patience. It took a grand total of 30 minutes, downloads included, and I now have lots of games and to do lists making Vivian a full service gidget!
So here's the hack-to-do list for dumb blondes, or for very intelligent people of any hair coloration variety:
Verify Version!

Hack it!

Make sure your Touch's firmware is 1.1.1. If not downgrade it —->

1. Download 1.1.1

1. Launch Safari on your touch

2. Reboot your Touch the top (power) and home buttons (takes 10 to 30 secs)

2. Go to http://jailbreakme.com, Scroll down, click "Install AppSnapp". All done! Slide to unlock

3. Restore your Touch by press and hold the 'Shift' key (or 'option' key on Mac),
then click 'restore' to select the 1.1.1 firmware file you downloaded earlier.

Prepare your 1.1.1 device for the Update
1. Launch Installer.app
2. Scroll down to Tweaks (1.1.1)
3. Select OktoPrep
4. Click Install
Notes
I read a bunch of words about 1.1.2 downgrade not working for peeps, but I had no issue at all, in fact, I didn't even get the expected 1015 error.
After your done, instructions will tell you to upgrade your Touch back to 1.1.2 through iTunes on the summary tab. Don't do it. You'll be back at square 1, so skip the last step unless your feelin lucky…
There are lots of in depth tutorials out there for specific issues or details. Surf man!
Happy Hacking.
Kiss Kiss,
Dawngrrl Gametart